VPN for Crypto Trading: Top Concerns for Crypto Investors and How to Address Them
Privacy is paramount to crypto trading. And this is where crypto VPN comes in. This is a handy privacy and anonymity tool that helps you safely buy and sell crypto from wherever you are. Read along to find out all there is about a VPN for crypto trading and which one you should pick.  
The privacy pitfalls of trading crypto
First off, while Bitcoin, Ethereum, and other popular cryptocurrencies ensure some level of safety, they are still vulnerable to cyber crimes. In fact, in 2021 alone, there was an increase of nearly 80% in losses of digital funds due to cyber crimes. This can make it risky to use a cryptocurrency exchange platform to buy or sell digital assets. Scammers may try to trick you to steal your private information, or take your money.
Besides, unlike traditional stock exchanges, crypto exchanges may not have enough protection, which makes cyberattacks even more common. Worldwide cryptocurrency heists tracker from Comparitech shows that almost $48 billion of crypto has been stolen as of May 2023.
Growing losses in crypto due to cyberattacks make it imperative to underline the most common crypto-related challenges crypto traders should look out for.
Lack of anonymity
While crypto transactions are nearly impossible to be linked to a specific user, traders' anonymity can still be compromised.
An online tracker or ad agency can easily detect your identity, especially if the exchange platform requires extra verification levels like Know Your Customer (KYC) and Anti Money Laundering (AML). These techniques verify new users' IDs and prevent potential fraud. However, they can also jeopardize your online privacy.
Fake crypto exchange platforms
A recent study by Forbes found that more than half of the daily Bitcoin trading volume they report is probably fake.
How come? Because numerous exchange platforms aren't legitimate. Many users, especially crypto trading beginners, ignore the red flags indicating fake and untrustworthy exchanges. Here are some worrying signs you should look out for:
Too-good-to-be-true returns
Offers of free or non-existent coins
Cloning of legitimate platforms
Malicious mobile apps
Crypto hijacking
Also known as "cryptojacking," crypto hijacking is among widespread crypto crimes where a person's device is used without their knowledge to mine cryptocurrencies. This is because mining crypto requires a lot of energy and resources, so cybercriminals use this method to save money. Unsurprisingly, the cases of this cyber threat have increased by 269% in 2022.
These and many more problems make crypto traders worry about the safety and privacy of their transactions. The good news is that you can alleviate risks. Let's take a look at common concerns among crypto investors and how a VPN can help.
Crypto VPN for solving common concerns among traders
Wondering how to secure your crypto wallet? You're not alone. In this block, we've rounded up most common concerns among crypto traders and explain how using a VPN for crypto can solve them.
❓ "I'm using a popular exchange, but I'm still worried about the possibility of hacks and thefts. How can I ensure the safety of my funds?"
👍 Solution: VPN encryption with the strongest method
Unfortunately, no exchange is immune to hacks. But with a VPN, you can enhance the security of your crypto wallet. VPN encrypts all the data you send through the network and makes it harder to intercept. Top VPNs like VeePN come with AES-256 encryption — the best encryption standard to date — and modern VPN protocols that combine security and speed, like WireGuard® and OpenVPN.
❓ "I'm worried about the security of my connection while trading crypto on public Wi-Fi. What measures should I take to protect my data?"
👍 Solution: A reliable VPN that protects your data on all networks
Say you need to make a crypto transaction while being connected to Wi-Fi in a hotel, airport, or other public places. What could go wrong? Everything. Both WPA2 and WPA3 protocols, used by most Wi-Fi networks, are vulnerable to cyberattacks. Public hotspots are particularly risky since they are often entirely unprotected. For example, hackers may steal your credentials, wallet keys, or digital funds using man-in-the-middle attacks, fake networks, or session hijacking.
You can prevent those risks by shielding yourself with a VPN. It connects your device to a remote server and runs your data through an encrypted tunnel. As a result, your crypto trading sessions will be invisible to the prying eyes of packet sniffers, especially on unsecured public Wi-Fi.
❓ "I'm worried about the many crypto phishing attacks out there. How can I protect myself from falling victim to these types of scams?"
👍 Solution: Protect your crypto activities with VeePN and its NetGuard feature
There are numerous potential threats to your online trading activities. Anything, from a malicious link to a pop-up ad infected with malware, may put your credentials and digital funds at an enormous risk.
One of the most widespread dangers is crypto phishing. This social engineering technique allows scammers to compromise your security and steal confidential information using harmful links or attachments. For instance, take a look at the email below. It encourages you to resolve a problem with your transaction immediately. Looks a bit worrying, right? But once you get hooked and click on the provided link, your credentials will be stolen by hackers.
Luckily, a reliable VPN service can prevent such an outcome, adding another layer of security against malware, viruses, and phishing attacks. For example, VeePN offers a powerful NetGuard feature, which helps users block malicious websites, dangerous links, and crypto-related scams. Simply turn it on in settings on iOS (works on OpenVPN and WireGuard® protocols). Or toggle 3 separate switches, like Block malicious websites in Settings on Windows, macOS, and Extension.
❓ "While trading, I want some anonymity to experience less inherent privacy risks"
How much can your IP address tell about you? Well, lots. It reveals your location, ZIP code, and Internet service provider's (ISP) name. Most likely, the blockchain platform you're using links your IP to your public wallet address. So if the platform experiences a data breach, your private info will fall into the hacker's hands. Besides, malicious actors may sell users' IPs on the dark web, use them for DDoS attacks, or spread malware on your device.
That is why it's better to hide your IP address when running nodes on the blockchain network. And you can easily achieve it with a VPN for crypto trading by boosting your Internet privacy. By connecting to any location in the VPN app, you get a new anonymous IP address. This prevents IP tracking by ISPs, hackers, government officials, and other entities, so you can buy and sell crypto anonymously (if you avoid KYC/AML exchanges — while these help ensure a safer trading environment, they also require users to provide personal information that can compromise their anonymity).
❓ "I'm currently traveling and I need to access my trading platform from different locations"
👍 Solution: A VPN with plenty of server locations around the world
If you're a crypto trader who frequently travels or moves around, accessing your trading platform in different locations can be a hassle. The problem is, some platforms may block or restrict access from certain regions due to local regulations or security concerns. Besides, some countries like China or Vietnam are harsh on anti-crypto laws, with certain cryptocurrencies being impossible to trade there.
You will find more infographics at
Statista
This can limit your trading options and potentially cause you to miss out on profitable opportunities. With a VPN, you can easily bypass these restrictions and access your trading platform from anywhere in the world. Simply connect to a server location where your platform is available and you're good to go.
Plus, with a VPN that offers plenty of server locations, you can choose the one that's closest to you for faster and more stable connections. For instance, VeePN provides more than 2,500 servers in 89 locations across 60 countries, so you can choose the one that suits you best and trade crypto on the desired exchange platform when traveling.
Disclaimer: VeePN is the VPN service not intended to be used for conducting any illegal acts. Please remember to check whether there are any restrictions in your particular country before doing anything potentially questionable. Please be informed that if some action is illegal without using a VPN, it will also be illegal with its use.
❓ "I'm worried about the possibility of ISP throttling my trading traffic and slowing down my connection"
👍 Solution: A reliable VPN that hides your activity from ISPs
Did you know that every single browsing session is tracked by your ISP? Whether you enter Binance to check the current Bitcoin price or log into your crypto app account, your provider will know what you're up to. They can even deliberately throttle your Internet to adopt your network traffic, which can lead to serious lags.
But with a new IP address from a VPN and your traffic encrypted, this will no longer be a problem.
Essential features of a crypto VPN
Unfortunately, not all VPN services are equally effective for trading crypto. If you are serious about your privacy and security, avoid free crypto VPNs as these service providers tend to fund themselves by selling your private data.
But how to pick the best VPN for crypto trading? Here's our checklist of key features.
AES-256 encryption. A VPN that uses AES-256 encryption ensures that your online activities and transactions are protected by military-grade security protocols.
Kill Switch. It automatically cuts off your Internet connection if your VPN connection drops. This ensures that your sensitive data and online identity remain secure at all times.
No Logs policy. A VPN with a No Logs policy means that it doesn't keep any sensitive data or records of your online activities, providing an additional layer of privacy protection.
Safe jurisdiction. Choosing a VPN provider based in a safe jurisdiction ensures that your online data is protected by strong privacy laws and regulations. VeePN is located in privacy-friendly Panama that doesn't have any mandatory data retention laws.
Payments in crypto. A VPN that accepts payments in crypto lets you make anonymous payments. This preserves your privacy and keeps your online activities and transactions secure.
Want to try out a VPN that ticks all the boxes above? Consider VeePN. Let's see how you can use our VPN for trading crypto.
How to use a VPN to buy crypto?
Follow these simple steps to start using a VPN for crypto trading.
Sign up for a VPN service. VeePN offers several pricing plans all backed by a money-back guarantee so you can try the service risk-free.
Download and install a VPN app. Good VPN providers run on most popular operating systems, including Windows, macOS, Linux, iOS, and Android.
Pick a server to connect to. If traveling, connect to a server in a country where your trading platform is available.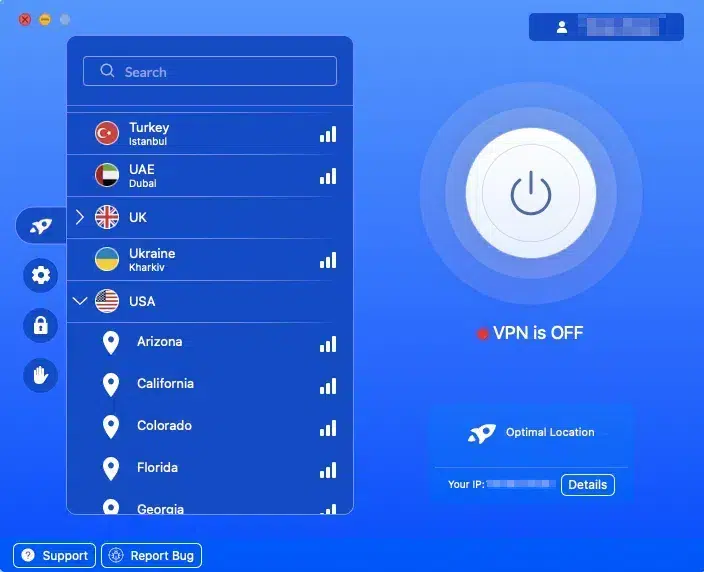 Turn on your VPN. Click Connect on the main screen.This way, you will change your IP address and secure your trading activities.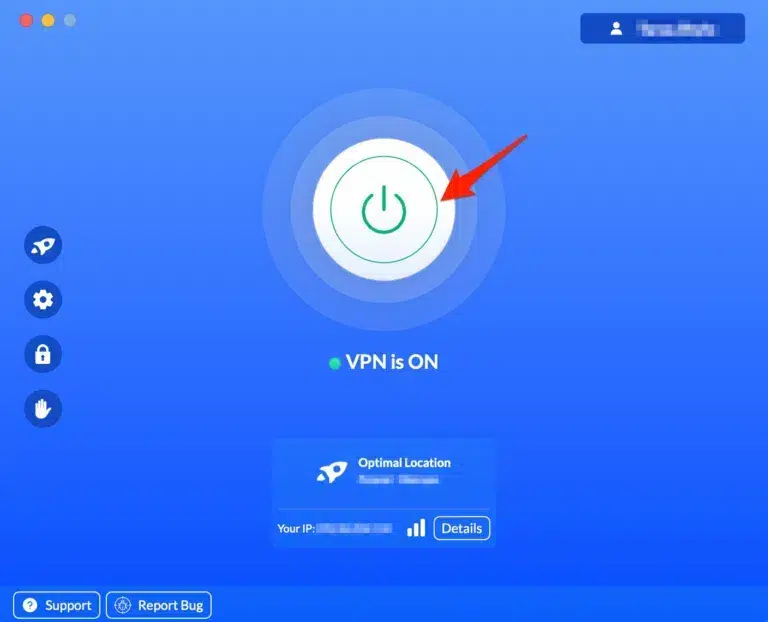 Pro tip: VPN not connecting or keeps dropping? Try these troubleshooting steps.
Head to the crypto exchange website or application. Now, you can buy crypto with a VPN without compromising your privacy.
Bottom line
If you need a powerful VPN for crypto trading that will keep your crypto assets safe and sound, give VeePN a go. Our top-rated VPN solution will give you all the features you need to boost online security and privacy. Download VeePN and try any plan risk-free. Make sure your data is protected and dodge third-party trackers and blocks.
Knowledge is power,
VeePN is freedom
Keep your personal data private.
Protect yourself with VeePN