Enhancing Privacy and Security: How to Set Up VPN for Kodi
From juggling Chromecasts and Fire TV Sticks to handling monthly payments for Netflix, Hulu, Prime Video, and more, the simplicity of TV seems like a thing of the past – especially if you value your privacy. Enter Kodi, the free entertainment media player that lets you enjoy many movies, TV series, music, podcasts and much more, bringing in content from numerous streaming services into a single, user-friendly interface. If you want to enjoy this content securely, a VPN is your essential companion. The good news is, setting up a VPN on Kodi is a straightforward process. So, let's find out how to install a VPN on Kodi on your device.
Why using a VPN with Kodi is a smart choice
Using a VPN secures your online experience by changing your IP address and directing your data through a remote VPN server. This not only gives you a new online location but also enhances your online security. However, for a seamless VPN experience with Kodi, you'll need a trustworthy provider.
Want to elevate your privacy and security with a robust VPN? We'll now guide you through the step-by-step VPN setup for Kodi.
How to install a VPN on Kodi
The easiest way to get started with a VPN on Kodi is by installing a VPN app directly on the device you'll use for Kodi streaming. Kodi is available as a native application for Android, Linux, Mac OS X, iOS and Windows. Whatever platform you have, you'll need to download a VPN to it as well.
Here's a step-by-step guide on how to start using a VPN with Kodi:
Go for a reliable VPN. Opt for a trusted VPN service like VeePN, optimized for seamless Kodi streaming. Here's what makes it a great VPN for Kodi:

Dedicated servers optimized for streaming, ensuring smooth HD and Ultra HD playback without buffering.
24/7 live chat support to assist users.
10 simultaneous connections for you to enjoy Kodi on multiple devices.
Support for wide range of devices and operating systems, from Windows and Mac to iOS, Android, Smart TVs, and gaming consoles.
30-day money-back guarantee for added peace of mind.
Online security with top-grade encryption and DNS leak protection.

Sign up for VeePN. Create your account risk-free.
Download and install VeePN. Get the VeePN app installed on your device.
Choose a VPN server location. Opt for a server location optimized for streaming or explore the "All" server list to select a specific country.
Connect to the VPN. Switch on the VPN, and you'll receive a new IP address while your Internet traffic will be routed through a remote server in your chosen country.
Launch Kodi and stream safely. Open Kodi and enjoy your favorite content securely.
For more detailed information on how to watch movies on Kodi, check out our guide. Happy streaming!
Disclaimer: VeePN does not promote, condone, or encourage using a VPN in ways that would potentially violate Terms of Service of streaming service providers. For more details, please read the VeePN Terms of Service.
Using the VPN app ensures the security of all Internet traffic on your device, making your browsing safe across the web. And if you're looking for full security across all your devices simultaneously, consider installing a VPN on your router. Read along to find out how.
How to install a VPN for Kodi via a router
Setting up a VPN like VeePN for Kodi through your router is a clever way to secure all your devices on your network at once. Let's go through the VPN router setup for Kodi step by step:
Check router compatibility. First, make sure your router can work with a VPN. You can find this info in your router's manual or by searching its model online. Some router examples that support VPNs are AsusWRT, TP-Link, Tomato, DD-WRT, Edge Router, and others.
Access router settings. Open up your router's settings through a web browser. Usually, you'll have to type your router's IP address into the browser's address bar.
Log in. Log in to your router's settings using the administrator username and password. If you haven't changed these from the default settings, you can find them in your router's manual or on a label on the router itself.
Find the VPN section. Look for the VPN section or tab in your router settings. It might have a different name, depending on your router's brand.
Configure VPN settings. Obtain the appropriate files for your VPN location from your VeePN account's Configuration Files. After downloading them, extract the files.
Set up your credentials. Generate your username and password.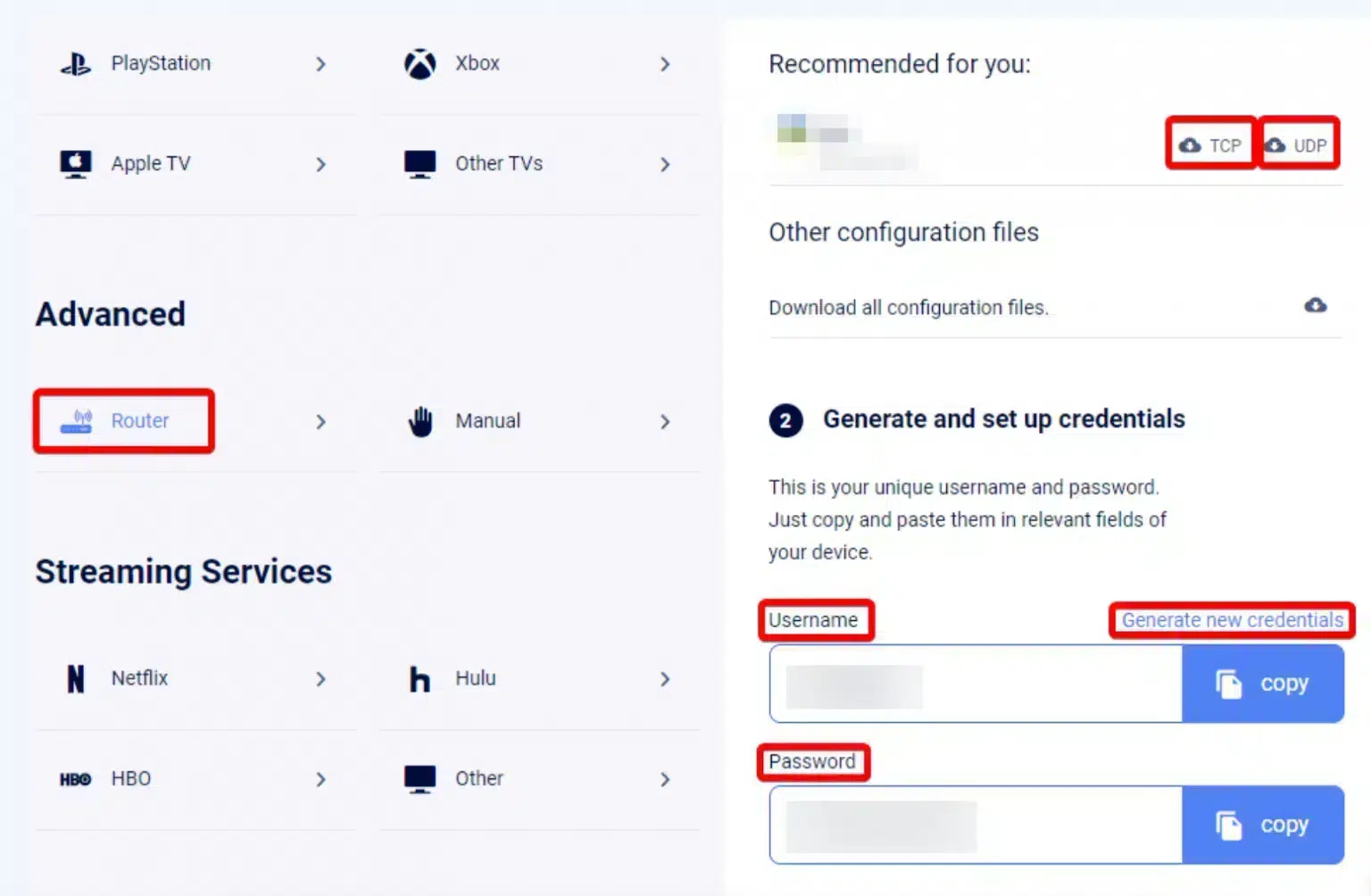 Import a VPN configuration file to router. Add the file to your router's settings and enter your username and password.
Save and activate. Once you've entered your VPN settings, save your changes and activate the VPN on your router.
Restart your router. To apply your changes, give your router a restart.
Connect devices. Now that the VPN is set up on your router, every device connected to your home network will be protected by the VPN, including those running Kodi. No need to configure the VPN on each device separately.
Test your VPN connection. To make sure everything's working smoothly, check that your IP address is hidden, and your online activities remain secure.
Experiencing VPN issues? Here's what to do
If your VPN isn't working as expected, don't worry. Here are some common troubleshooting steps:
Try another network. Test the VPN on a different Wi-Fi network or cellular data connection to rule out issues with your Internet connection.
Restart your device. Reboot your computer, smartphone, or router. This is a simple step that can often work wonders.
Check your VPN subscription. Confirm that your VPN subscription is active and up to date.
Switch servers. VPN servers can sometimes get crowded or experience problems. Try connecting to a different server location.
Disable firewall or antivirus. Temporarily disable any firewall, antivirus, or security software that might be blocking the VPN connection. Remember to re-enable them after testing the VPN.
Update VPN software. Ensure you're using the latest version of your VPN app.
Contact customer support. They can provide additional guidance and help you troubleshoot any known server issues or maintenance that could be affecting your connection.
For more info on VPN troubleshooting, refer to our in-depth guide. Don't let glitches and other issues disrupt your Kodi streaming experience.
Why do you need a VPN for Kodi
Alright, you've just learned the nitty-gritty of using a VPN with Kodi, but let's dive into why you absolutely need one in the first place.
Will your Kodi do without a VPN? Sure, it can, but here's the thing:
ISP snooping. Your friendly neighborhood Internet service provider (ISP) can peek into your Kodi binge sessions and your overall online activity. But VPNs cloak the websites, apps, and your device's true identity, so your ISP stays blissfully clueless.
Streaming borders. Netflix, the global chameleon, looks different in every country. Without a VPN, you won't be able to access the content from back home when traveling.
Wi-Fi wild west. If you're Kodi-ing on public Wi-Fi, your connection's about as safe as a house with the front door wide open. Your private IP address is out there for all to see. Unless you turn on a reliable VPN.
Hack-proofing. VPNs aren't just fancy. They're your digital bodyguards, shielding you from cyberattacks by encrypting your data. VeePN also takes your security to the next level with its Antivirus feature available on Windows and Android. Get extra security for peace of mind and protect yourself from malicious actors out there.
So, gear up with VeePN and get ready to boost your streaming while keeping your digital hideout safe and sound. Level up your Kodi experience risk-free.
FAQ: How to Set Up VPN for Kodi
Should I use a VPN with Kodi?
Yes, using a VPN with Kodi is highly recommended if you want to have enhanced privacy, security and bypass Interenet restrictions. Find out how to set up a VPN for Kodi in this detailed guide.
How to use a VPN on Kodi Firestick?
To use a VPN on Kodi Firestick, first, subscribe to a VPN service compatible with Firestick. Then, install the VPN app on your Firestick, launch it, and connect to a server. Once connected, open Kodi to enjoy secure streaming.
Knowledge is power, VeePN is freedom
Get VeePN Now
30-day money-back guarantee
Keep your personal data private.
Protect yourself with VeePN