Is Bitmoji Keyboard Safe? What to Consider Before Using It
Expressing yourself with a simple GIF or emoji instead of typing paragraphs of text. Sounds convenient, right? That's what Bitmoji is all about. This app works with popular messaging platforms like SMS texts, Facebook Messenger, WhatsApp, iMessage, Slack, Discord, and Snapchat (which happens to own Bitmoji). But keyboard apps like Bitmoji have certain permissions that allow them to collect data. So the big question comes: Is the Bitmoji keyboard safe? Keep reading to get all the answers you need.
What is Bitmoji?
First, let's provide some context on what Bitmoji is. It's an app that lets you create cartoon versions (emojis) of yourself, which you can later use on social media, messengers, and other apps.
Is Bitmoji safe?
Created by the same people behind Snapchat, Bitmoji itself is generally safe and not a virus or malicious app. So as long as you keep the app updated, you should be fine.
The real concern lies more in Bitmoji's privacy policies rather than its security. When Bitmoji, like other keyboard apps, asks you to "allow full access", it can make you raise an eyebrow. This may sound as the app can access, record, and transmit everything you type, including sensitive information like passwords and banking details. But is this really the case? Read along to find out:
Why Bitmoji needs full access
What data the app collects and why
Does Bitmoji affect your online privacy or not
Why does Bitmoji need full access to keyboard?
Some keyboards use this access to provide predictive or personalized suggestions based on your typing patterns. As for Bitmoji, the app provides a dedicated page where it explains why it requests "full access" from its users — that is to download and update your custom Bitmoji images. To address privacy concerns, the creators of Bitmoji assure users that the Bitmoji keyboard can't read or access anything you type using your phone keyboard.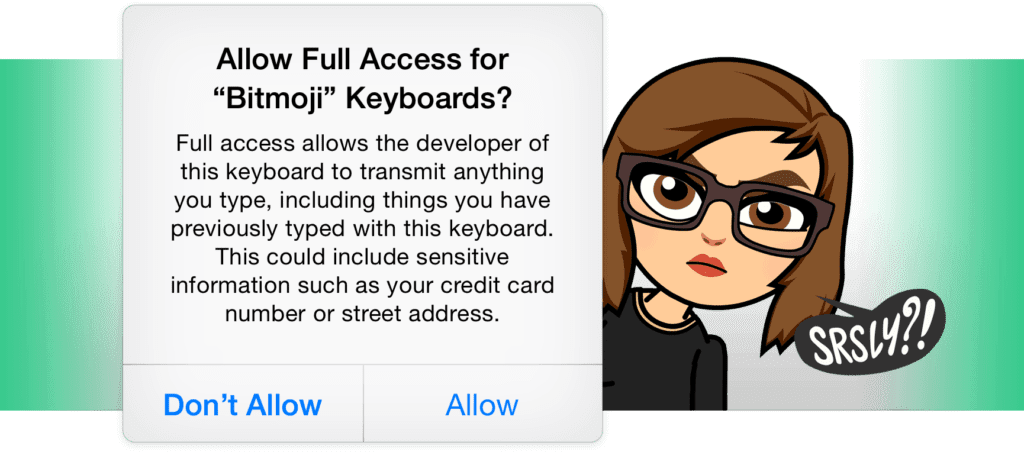 Sounds promising? More or less. But does it mean Bitmoji is safe to use? Well, providing full access still raises concerns since keyboard apps may misuse the data they collect, and Bitmoji is no exception.
Does it mean that Bitmoji absolutely safe?
Bitmoji doesn't record all the things you type — after all, it's not a classical keyboard — so the chances are it only tracks your stickers, and you shouldn't worry about every keystroke.
But an app still has the possibility to get your data (much of it, in fact). This is when we need to find out what data Bitmoji collects exactly and why.
Does Bitmoji collect data?
Yes. As per the general company's policy, here's the data Bitmoji collects:
Data you choose to share. Standard info necessary to use the service, such as your login data, contact information, date of birth, specifics of your account, and so on.
Service usage data. Content information (like custom stickers), device information, device phonebook, location information, log information.
Data from third parties. No clear information is provided here, but we can guess that it's related to obtaining data from affiliates and user profiling. The chances are, most of the information comes not from Bitmoji but from Snapchat.
How Bitmoji uses your data
What does Bitmoji do with all this data? There are two possible scenarios:
At best, Bitmoji uses your information to improve its service. It aims to make you more interesting offers, boost its stickers, and skyrocket your customer experience. If you are using both Snapchat and Bitmoji, you should be prepared for targeted ads — that's the way the company makes money, after all.
The worst case scenario is that the company (or any other company you share your data with) can expose your private data inadvertently. This can lead to Bitmoji privacy issues — leaks happen, and some of them have dire consequences. For example, in the data leak of Ai.type, the keyboard app, 31 million Android users were put at risk of losing their personal information. Security researchers found almost 600 gigabytes of information including names, phone numbers, location, and device details in the open database.
Does Bitmoji put your data at risk?
The risk always remains. That's why it's the right choice to explore the company's privacy policy before you start using a specific service and not use apps until you're sure your data is encrypted and protected from third parties.
Is there a solution that can make you more relaxed? There is one indeed. If you want to take care of your cybersecurity and data safety, it's worth installing a good VPN software that will protect your data — a valuable asset — on all apps, Bitmoji included. There are lots of scammers eager to steal your private data, so it would be a good idea to protect yourself with a tool like VeePN, a user-friendly VPN.
How to ensure your online safety
Regardless of the app you intend to use, be it Bitmoji, other virtual keyboards, or else, consider getting VeePN. This tool will give you an anonymous IP address along with a new virtual location. The VPN app creates an encrypted tunnel to redirect your browsing data to a remote VPN server and protect it. This way, no one can identify you online — your Internet service provider, local authorities, snoopers, hackers, and scammers.
VeePN is a top-rated app that lets you own your privacy. Stay in touch with your friends, visit various websites, and use the Bitmoji keyboard or any other apps without worries that your online activity can be traced. Change your VPN location as many times as you need to access global content safely and prevent tracking. Keep your VPN on whenever you're online and get the highest level of protection for your data.
Wrap-up
So, is it really safe to use a Bitmoji keyboard? While that is a legitimate app, you should be aware of their extensive permissions, obscure privacy policy, and general privacy risks of third-party apps.

At the same time, these facts are not enough to call this company a dangerous one and that you should absolutely avoid it. So, if you really want to give a chance to funny stickers, go for it. Just remember about boosting your online security — in this case, VeePN will make your online life much safer. Try one of its risk-free plans and improve your cybersecurity in no time.
FAQ: Is Bitmoji Safe?
Is Bitmoji keyboard safe to use?
Bitmoji is a legitimate app that doesn't come with malware risks. Still, you should always be aware of its extensive permissions, obscure privacy policy, and general privacy risks of third-party apps. Read this article for more information on the topic. 
Does Bitmoji steal your info?
Snapchat — a company owning Bitmoji — has fallen victim to hacks in the past years. Besides, it failed to patch an old bug that led to millions of users being exposed to data breach. So, before using any third-party app, explore its privacy policy — that is, what data it collects and why — and remember to encrypt your data with a VPN. 
Knowledge is power, VeePN is freedom
Get VeePN Now
30-day money-back guarantee
Keep your personal data private.
Protect yourself with VeePN